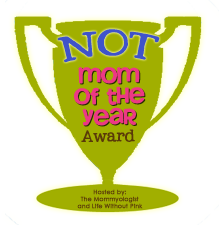 My Very First Vlog! I was so nervous I thought I might puke! Heeee! So here is my entry for the Not Mom of the Year! This is a contest over at
The Mommyologist
and
Life without Pink
. Two fun bloggers who are thinking outside of the box.
So enjoy my entry. Those of you who know me.... know.....I am constantly securing my place in heaven. This entry may put me a few steps behind, but really... my kids, and the World's Greatest Husband are my world, my joy and I am proud to love them.
PS -
My video doesn't mention that I make the World's Greatest Husband check the math homework and when he is working late I have often "conveniently forgot" to check it. I have Master's Degree but it isn't in mathematics!!